I have already gone there, but with recent advances in APS-C along with recent lenses by a certain manufacturer (and a bit of isolation giving time to think) I have realized that in certain instances full frame is not necessary for me.
Having roots back to film cameras full-frame provides an abundance of exceptional lenses. I have spent quite a bit of time with APS-C digital over a few brands. Nikon (D3300 a while back), Pentax (K-3ii and K-70), Samsung (NX30, NX300, and NX1 before they bailed), Fujifilm (<deep breath> X-T1, X-T10, X-Pro1, X-T100, and X-E2), and lastly Sony. What usually hinders APS-C has nothing to do with the sensor size itself, but the lenses you put out in front of it. One of my favorite focal lengths is 85mm.
Pentax has the 55mm f/1.4 and Nikon has the 58mm f/1.4 (rough crop sensor 85mm full-frame focal length equivalents) DSLR lenses but I prefer mirrorless and the Nikon costs a bit more than I would like to spend being full-frame compatible and all.
Pentax being Pentax they also went with a trusty "Why the heck not?" 77mm f/1.8 focal length which was a bit too long for APC-C and not quite long enough on Full-Frame.
Samsung went a bit odd making an excellent 85mm f/1.4 lens for APS-C only…
…which works out to 127mm. While near another great focal length of 135mm it was a bit long for a go-to portrait lens.
Same focal length issue with the great Fujifilm mount Viltrox 85mm f/1.8.
Fujifilm also has its highly regarded native 56mm f/1.2…
…but I am an outlier as I never warmed up to it. I found focusing a bit slow on this Fujifilm lens. The light was not all that bad in this shot below, but the 56mm struggled to focus and even after a few attempts the resulting shot was still not in focus.
Additionally, I evidently stand-alone by not being blown away by the IQ. Not bad, but it does not stand up to some of my personal favorite full-frame 85mm lenses.
From my Pentax days, there is the manual focus Mitakon 85mm f/2…
…and Mitakon 85mm f/1.2.
On to Sony, there is the excellent Sony FE 85mm f/1.8…
…and the also excellent Rokinon/Samyang 85mm f/1.4.
Was very happy with the last.
The last two were the best by far offering blazing fast, accurate, and silent AF along with fantastic IQ and creamy bokeh.
But there a few things you could not accuse a full-frame camera with a bright AF 85mm lens of being.
Small.
Light.
Affordable.
Inconspicuous.
Having had very good luck with the 16mm and 30mm f/1.4 Sigma lenses I started to wonder if the 56mm f/1.4 would fit the bill. It did.
Not impressed? This shot was taken off the cuff and here is a crop.
I love this shot.
So let us go down the list from above and compare the A7III/Rokinon 85mm f/1.4 with the a6100/Sigma 56mm f/1.4.
Small?
With hood.
Without hood. (The Sigma is smaller with a hood than the Rokinon/Samyang without.)
Front element.
Check. I can actually get this Sigma set up in my larger jacket pockets even with the small rig add on.
Light?
2.66lbs. vs. 1.43lbs.
Check.
Affordable?
$2,597.00 vs. $1,177.99 combined at the date of this article. You can do even better if you catch the a6100 and Sigma on sale like I did. If you do not need 4K and do not need a 180-degree flip screen you can pick up a second hand a6000 and save even more. That set up focuses just as quickly.
Check.
Inconspicuous?
The Rokinon 85mm somehow always gets attention when I bring it out. Even more than the Sony FE 85mm. The Sigma 56mm does not look like a portrait prime. Oddly it is even smaller than its 16mm and 30mm siblings. That is perfect for someone like me that prefers candid portraits over posed.
Check.
So does the Sigma have any more pluses? Actually yes.
Close focus.
This lens focuses much more closely than any portrait lens I have ever used (2.95′ / 90 cm vs 1.64′ / 50 cm). My full-frame cameras could not have taken the shot above. I was sitting right next to my friend here.
Image Quality.
So the full-frame Image Quality must be much better, right?
Not really and this was the biggest surprise for me. The Sigma 56mm is every bit the match for the Rokinon 85mm. Here is a quick back to back I took.
85mm
56mm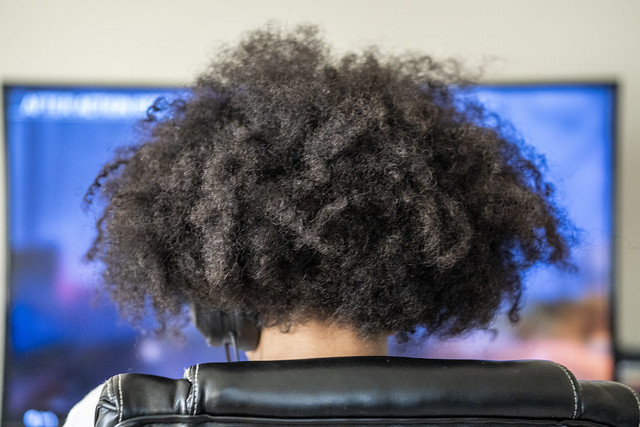 Furthermore, bokeh, sharpness, colors, fall off were all functional equals.
Construction.
What about lens construction. Again. Every bit a match. The Sigma has a high-quality look and feel with a soft touch, but a rugged feeling exterior that will likely take a small hit better than the also nice, but harder and shinier Rokinon exterior. Both have 9 rounded blades.
So what do you get for the extra size and spend? Not much lens wise. I would be perfectly happy using either.
The only two full-frame advantages (battery life and IBIS) have to do with the cameras, not the lenses. And both could be remedied by swapping out the a6600 (with larger battery and IBIS) for the a6100. More expensive, but still less than full-frame.
Full-frame is now purely a preference for me for a portrait rig. Add in the 16mm and 30mm and I am set for APS-C primes in general. Now if someone would get to work on affordable, reasonably priced and sized bright 24-70mm and 70-200mm equivalent zooms for Sony (Like here and here for Samsung before the mount expired.) I would be straight. The Sony bright, normal zoom is a bit dearer than I would like and I do not believe there has been a 50-150mm-ish f/2.8 lens made yet for the E mount.
So with Sigma's help, Sony APS-C has arrived (Potentially Canon EF-M mirrorless also although I cannot vouch for focus performance with that setup.). Here is an ongoing album.
Update: I still stand by everything stated above, but with the release of the A7c I have transitioned away from crop Sony to that camera and the Rokinon/Samyang 75mm f/1.8 as a best of both worlds alternative to the lenses compared here.